This blog was originally posted at www.nigelring.org
Part 3 (The Good)
We continue to look at some of the good aspects of short-term mission teams, click here to read part 1 and 2:
3. Expect the unexpected
In the lead up to our own team visits there is a plan and a schedule. But we encourage team members to be prepared for the unexpected. Activities will be far less 'programmed', more 'last minute'. Flexibility without frustration will be essential. Travel can be a challenge. Flight times change due to weather; luggage is loaded onto the next flight without passengers being informed; a hotel no longer has the rooms you'd booked in advance.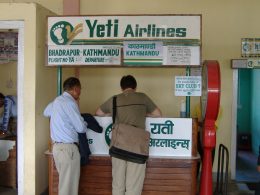 One team was stranded in Delhi airport due to a volcanic ash cloud over Europe followed by 5 days of uncertainty in a hotel, before boarding then disembarking the aircraft and returning to the hotel! Such unplanned events challenge our desire to have control over situations and provoke us to trust God in a deeper way.
4. A broader vision of the church
What a privilege to discover through visiting another culture that we have 'family' members all over the globe.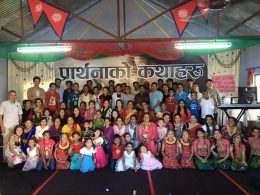 Cultural expressions may be very different but it's the same gospel, the same Jesus, the same Father and we are sealed with the same Spirit. It's a great privilege to be part of a local church in another nation even if that's for a brief moment; a foretaste of Revelation 7:9 as we join 'with one voice' and get to worship the Lamb alongside believers with whom we share so much in common.
When, after much travel and some discomfort, we arrive at our final destination and have the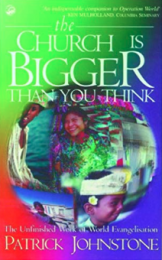 joy of meeting the church communities we're visiting there is the moment when we connect with Jesus' church. There is often an instant sense of connection and recognition. We are back home again. The language may be unfamiliar, we may be barefoot and sitting on the floor during the meeting, but we're home amongst family members we've never met but with whom we share so much in common. We come to appreciate that the church is bigger than you think, as Patrick Johnstone titled one of his books. This is good.
5. A deeper appreciation of the need
Very real and severe deprivation is part and parcel of the lives of most people on our planet today. As a short-term team we exit the bubble of affluence and enter the raw realities of life for most people. It's no longer just a fleeting image on our TV screens alongside ads for beauty products and dog food. It's up close and personal. It's human and far more complex than perhaps we think. This can be distressing for some and leave us feeling overwhelmed. But it brings a much needed perspective to us.
That, too, is good.
6. A greater engagement with World Mission
World mission for many is a few pins on a map in the foyer of the church hall, remote and separate from the day-to-day life. We recognise its importance but we don't feel involved.
Short-term teams can change all that. They help take what is remote and separate, and make it relational and central. Friendships are forged in another culture and connections are made. The result is the local church becomes relationally involved with other gospel communities in very different contexts and cultures. We're no longer just praying for remote people in remote places; we're now standing shoulder-to-shoulder with friends. No longer do we pray for 'pins on a map' but for people with whom we have a relational connection. This ensures that world mission is strongly relational and central.
That also is good.
7. A strengthening of our own Church Communities
In the West, lives tend to be very compartmentalised with high demands on our time. Much in our culture makes it difficult to cultivate community. Short-term teams made up of people from within local churches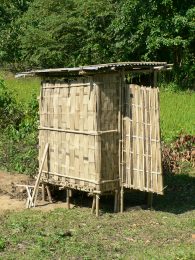 are a great way to promote and strengthen relationships within those local churches. In 2 weeks of long haul flights, meals together and prolonged road travel, church members probably spend more time in close proximity than they have in several months if not years of church life. A few cross-cultural pressures (and bouts of diarrhoea!) break down the walls and deeper relationships result. Quickly toilet tales and laughter – and the occasional tears – result in deep relationships being cultivated as we share in this rich experience.
Yet another good thing.
Next time we will consider some of the things that are not so good.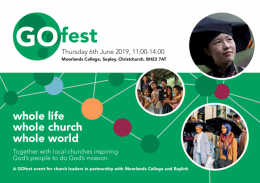 Go-fest
Finally, let me encourage you to register for Go-Fest, a leadership mission conference at Moorlands Bible College including a session by Mile Jarvis (Commission) for those arranging short term team.
Part 4 (The Bad)
Having suggested some of the very real positive benefits of short-term teams I'd like to flag up a few cautionary issues under the heading of 'The Bad'.
1. Inadequate orientation
Many of the benefits of short-term teams result from members engaging in the right way. This comes from their own personal spiritual maturity where humility, flexibility and a capacity to trust God and live with some inconveniences are all vital. Sometimes the younger, outwardly zealous members of the team struggle more than the spiritually mature, if more physically frail, senior team members.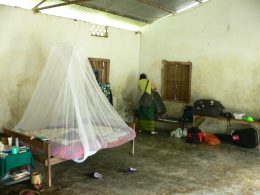 Orientation is vital when it comes to helping team members approach the experience in the right way. This should involve some education on cultural issues and guidelines on how to avoid dropping cultural cluster bombs. Orientation helps encourage sensitivity to some cultural issues that are not immediately obvious – the way shoes are left at the door and the left hand is not used for eating, for example. Orientation also involves covering some of the more practical aspects of the trip, such as whether or not anti-malarial medicines are needed and giving advice about drinking tap-water.
Orientation should also help prepare team members to have right attitudes and to recognise there may be internal struggles that a cross-cultural experience can provoke. Our aim is to encourage a posture that's humble, and eager to learn and to serve, which is essential to get the most out of the visit. A lack of orientation along these lines will mean that team members are ill-prepared and more likely to miss out on God's good work within them.
That's bad
2. Unrealistic expectations
Many of the positive benefits of short-term teams are what occurs in the lives of the team members. If we're expecting our contribution to be the 'big story' then our expectations are misplaced. These times are largely about what God does in us rather than through us; typically team members report that they received far more than they felt they gave.
That's not to write off the contribution that teams can make, but in the very limited timeframe they can't achieve the same as longer-term periods where individuals can be embedded within a cross-cultural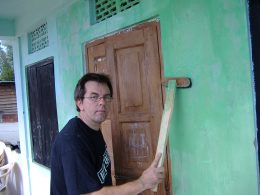 context, learn language and begin to make a more substantial contribution. Expectations must be managed. Though valuable, what can be achieved is limited. This needs to be acknowledged and embraced if teams are to avoid thinking that they are somehow going to establish God's Kingdom within two weeks! They may begin some new friendships, pass on a little encouragement, lay a few bricks or paint a few walls, but the overall contribution will always be small, so they need to be realistic about what they can contribute. Inflated, misplaced expectations may well lead to frustration and disappointment.
That too is bad
3. A lack of connection with the local church
The model we've pursued in terms of short-term teams has been local church based. Our teams have typically been made up of people from a local church or a relational group of local churches who visit, serve and support a local church with whom we have an on-going relationship. I'm convinced that the more we can connect sending and receiving churches the healthier they will be and the greater their impact.
There are all sorts of other models. For example, some focus on particular issues such as education or health care. But these, too, should connect with and contribute to the churches that already exist in the context being visited. Unless teams are entering into truly unreached territory where there is no church in existence they should be working with and if possible through local communities of believers who will continue to be there long after they have held their conferences and set up their projects.
Short-term teams should never be 'smash and grab' efforts with no connection or relationship with the local church. They should be there by invitation. The local church should shape and influence what the teams seek to do and what approach they take. The local church understands better than anyone the cultural issues that exist in that place, and it's the local church that will continue to exist within and engage with the culture long after the team has departed.
A measure of relationship between the local church and the visiting team is essential. The local church must have some ownership of the approach and aims of the team that's visiting. To disregard this and to fly a team in with a '2 week plan of action' is a disastrous approach.
That is bad
Next time we shall start to address some of the 'ugly' issues related to short-term teams.